VN strives for big tax reform
HA NOI (VNS) — Deputy Prime Minister Vu Van Ninh said every province would strive to implement an e-tax service to cut tax declaration procedural times to 171 hours per...
HA NOI (VNS) — Deputy Prime Minister Vu Van Ninh said every province would strive to implement an e-tax service to cut tax declaration procedural times to 171 hours per year in 2015.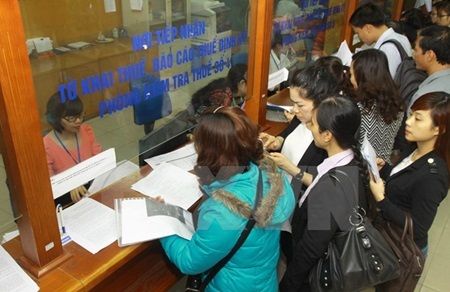 Under Ninh's instructions, laid out in a tax review meeting in February, all tax departments must continue reviewing and minimizing paperwork to create favourable conditions for taxpayers.
The Government is strongly determined to implement online tax declarations, as Viet Nam is one of the countries that spends the greatest amount of time on tax procedures, with 872 hours spent annually for each small and medium-sized enterprise, according to Nguyen Thi Cuc, chairwoman of the Viet Nam Tax Consultancy Association (VTCA).
This figure is four times higher than that of many other Southeast Asian countries. Indonesia spends 259 hours, Thailand 264 hours, Malaysia 133 hours and Singapore 82 hours.
Viet Nam ranks 149th out of 189 nations in terms of time required to complete tax payments.
According to Finance Deputy Minister Do Hoang Anh Tuan, before September 30 last year all businesses made e-tax declarations, and paid taxes online. On the other hand, tax departments are required to soon conduct pilot projects on e-invoices nationwide.
At the same meeting, Tuan asked the HCM City tax department to spur administrative reform by imposing strict regulations that require businesses to implement e-tax services.
By the end of this year, the taxation sector will strive to halve the amount of tax payment procedures businesses need to follow, said Nguyen Thi Cuc, chairwoman of VTCA.
According to industry insiders, the application of e-tax services will lead to effective results for both tax departments and taxpayers. Taxpayers will be able to save their time, expenses and minimise shortcomings in tax declaration.
Experts attributed the enormous time spent on tax procedures in Viet Nam to the long time it takes to complete the paperwork.
Software errors have stopped some businesses from successfully sending in their online tax declarations. In addition, information technology infrastructure remains insufficient, which leads to internet congestion, further disturbing taxpayers.
Employees in tax departments also create extra difficulties.
To surmount these obstacles, the tax department in HCM City has petitioned the General Department of Taxation and Ministry of Finance to expand the network of banks that allow online tax payments. In addition, greater dialogues between taxpayers and tax departments will be conducted regularly to make it easier for businesses to pay taxes.
The Prime Minister's Directive 24/CT-TTg, dated August 5, 2014, on enhancing the management and reforming administrative procedures for taxation and customs hopes to get 95 per cent of enterprises to make their payments online by the end of 2015.
Also under the directive, 63 cities and provinces nationwide will start offering e-tax services by late 2015.
The General Department of Tax reported that by the end of last year, 462,391 enterprises had used e-tax services or 94.8 per cent of registered businesses.
All customs departments across Viet Nam have received and processed more than 19 million tax declaration dossiers.
Initial results
Pham Thi Hong, chairwoman of of Tuy Hoa in Phu Yen Province, said earlier her business needed at least two people involved in tax declaration, due to the high volume of invoices received. Now only one person is needed, and her business saves VND5 million per month.
Vu Thanh Danh, a chief accountant for a joint stock company in Khanh Hoa Province, said he is very pleased with the invoices on telecom, tap water, electricity and public transport fares. A business now needs only to make a one-time tax declaration, instead of listing a series of invoices.
According to Tran Le Nga, deputy head of HCM City's tax deparment, 98 of the 140,000 businesses operating in HCM City have used e-tax services and the remaining 2 per cent have already stopped using the old system, or are yet to be equipped with additional software and tools they need to make tax declarations online. — VNS
Source: http://vietnamnews.vn/