Vietnam's property market generates new foreign interest
Cranes operate at a residential construction site, center right, in Hanoi. Vietnam's economic recovery is a godsend for foreign businesses to expand their investment in the property market, experts say. Photo: Bloomberg...
Cranes operate at a residential construction site, center right, in Hanoi. Vietnam's economic recovery is a godsend for foreign businesses to expand their investment in the property market, experts say. Photo: Bloomberg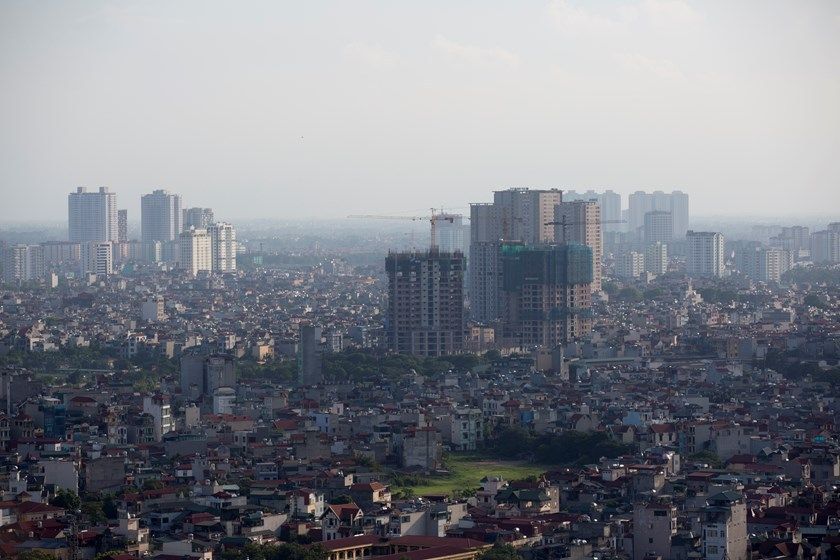 South Korean giant Lotte, after inaugurating last September Lotte Center Hanoi, a mixed-use development with offices, a shopping mall, hotels, and apartments, is now eyeing a similar project in Ho Chi Minh City.
With an investment of some US$2 billion, the Smart Complex in HCMC's new Thu Thiem urban area would be one of its biggest projects in Vietnam.
Lotte is one of several foreign property investors to have recently upped their investment in the country.
Hong Kong's Sun Wah Group has a more than 40 percent stake in a multi-million dollar project to build an apartment building complex in HCMC's Binh Thanh District.
The group is currently the owner of the Sun Wah Tower in HCMC, and the developer of the $400 million Saigon Pearl residential-commercial complex. It also plans to build an industrial park in Hanoi and a resort in Vinh Phuc Province.
"The economic recovery is a good sign for foreign businesses to expand their investment in the property market," Pham Sy Liem, deputy chairman of the Vietnam Construction Federation, said.
Vietnam's economy grew at 5.8 percent last year and the government has stepped up efforts to clean up bad debts in the financial system, some of them tied to property.
Echoing Liem, Nguyen Van Chinh, director of a property firm in Hanoi's Le Van Luong Street, said: "Inflation rate is manageable and interest rates are reduced, thus people are starting to invest more in properties. You will begin to see the turnaround."
When the real estate market boomed between 2007 and 2008, it lured half of all foreign direct investment coming into Vietnam. Then the market froze, also becoming less attractive to foreign investors due to the economic downturn in the country in the following years. Many projects had their licenses revoked after construction stalled, while some others proceeded at a snail's pace.
However, the market is showing signs of recovery with a sharp increase in the number of transactions.
The real estate market saw over 8,000 successful transactions in the first quarter of this year, triple the number in the same period last year, according to the Ministry of Construction.
The bubble of eight years ago is unlikely to recur since the economy is strong this time, Liem said.
New ownership rule
Another reason for foreign investors to increasingly enter the sector is a policy change allowing greater foreign ownership of property, Nguyen Huu Cuong, chairman of the Hanoi Real Estate Club, said.
Foreigners with a valid visa and foreign companies and international organizations operating in Vietnam will be permitted from July 1 to buy houses and apartments.
Now only foreigners married to Vietnamese and those deemed to make significant contributions to the nation's development are allowed to buy houses in the country.
The new rules allow maximum foreign ownership of 30 percent in any apartment building or 250 houses in a ward.
"It is a very good change of policy, opening up the real estate sector to expats, and creating an image of an opening of the economy to foreign capital," Liem said.
"It will help attract more FDI in the sector."
Singapore property developer Keppel Land last July bought an additional 43 percent stake from a Vietnamese partner in a high-rise building project in HCMC, raising its total stake to 98 percent.
Linson Lim, president of Keppel Land Vietnam, said: "We remain confident in the long-term growth potential of Vietnam's property market. It has a young and dynamic population and a growing middle-class with strong aspirations for home ownership."
The high urbanization rate, improving infrastructure and declining interest rates would also support housing demand, he said.
Investors who have done business in Vietnam for many years like Lotte, the nation's biggest fund manager VinaCapital Group, and Indochina Land, a subsidiary of London-listed fund Indochina Capital, have recently expanded investments in property, while new ones like Creed Group have entered the market.
Last December Japanese fund manager Creed announced plans to invest in an apartment project in HCMC. It is expected to put up 80 percent of the project's cost of VND1.3 trillion.
Real estate sector ranked second last year, after the processing industry, in attracting FDI. In 2014 it attracted $2.54 billion, accounting for 12.6 percent of total investment, according to the Foreign Investment Agency.
More foreign customers
The new rules on foreign property ownership come as good news for the real estate market, especially the high-end segment. It could result in an increasing number of foreign customers, Liem of the Vietnam Construction Federation said.
The fact that Vietnam has been listed as one of the top 25 retirement destinations by International Living, an Irish magazine, could also spur demand for housing in the country from foreign nationals, he said.
The magazine's annual Global Retirement Index is compiled using inputs from its team of correspondents around the world who consider climate, healthcare, cost of living, and other factors to draw up a comprehensive list of the so-called "best bang-for-your buck" retirement destinations on the planet.
It ranked Vietnam 25th with a score of 67 out of 100 possible points.
An Indochina Land spokesperson said the firm has recently received hundreds of letters from foreigners interested in property in Vietnam. They want information about regulations on foreign ownership of property including the possibility of renting out properties.
He said the Vietnam real estate market is highly attractive to both foreign investors and buyers. Most of them prefer high-end apartments of international standard and a full range of amenities in Da Nang and HCMC.
According to the Ministry of Natural Resources and Environment, nearly 800 overseas Vietnamese and foreigners own housing in Vietnam.
The number is small considering that there are some 80,000 expats living and working in the country.
Source: http://www.thanhniennews.com/